Free CECs
NFPT Trainers get CECs, WITHOUT Fees!
FREE Self Tests
Free bi-annual tests, consisting of about 50 questions, will assess your knowledge on the articles in the corresponding Self Test packet.  These packets are filled with comprehensive articles exploring concepts and trends in exercise science, fitness programming, nutrition and more. All packets/tests are available through your NFPT Account…a new test will be released every June and December, and ALL will be available until they have been successfully completed.  Once you score 80% or higher, your credits will automatically post to your NFPT Account.  If you prefer completing the Self Test packet at home, feel free to purchase your Hard Copy Self Test Packet today!  Each Self Test will award .60 credits.
Take Free CECs Now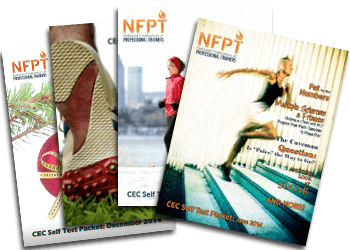 FREE Fitness Flops or Facts
Free monthly mini-quizzes that we call 'Fitness Flops'. These are 4-5 question quizzes that can be completed right from your NFPT Account. Some are asking for problem identification depicted in the image and some could be incorrect form or incorrect client:trainer etiquette – identifying the wrong way reinforces the right!  Other quizzes are generated from articles found on NFPT's Blog, quizzing you on the specific subject matter to reinforce the skill or knowledge that is presented in the article. Once all questions are answered correctly, CECs are automatically posted to your account. You can continue taking the assessment as often as needed and ALL Fitness Flops are available until successfully completed.  Each Fitness Flop will award .10 CECs.

Take a Peak at our FREE Self Test Packets
December 2021 Self Test Packet
June 2021 Self Test Packet
December 2020 Self Test Packet
FREE Education Resource
Even if you decided to utilize a different source for continuing education, you won't want to miss the NFPT Blog!  It's a FREE Education Resource with a wealth of content to share.  You can search for topics of interest, as they pertain to your clients needs, or just continue growing your trainer knowledge.  Your clients will be glad you did!
Become a specialist to broaden your client reach!  Adding credentials to your trainer toolbelt will provide opportunities for advancement and keep you on the cutting edge.  Check out our Fitness Courses and start adding to your trainer resume today.